On an overcast day in early July, drivers in central London found themselves in a situation that's familiar to anyone used to rural living: getting stuck behind a slow-moving tractor.  Except in this case, it was many tractors, plus a cavalcade of other vehicles including a group of animal rights activists dressed as fruit and vegetables.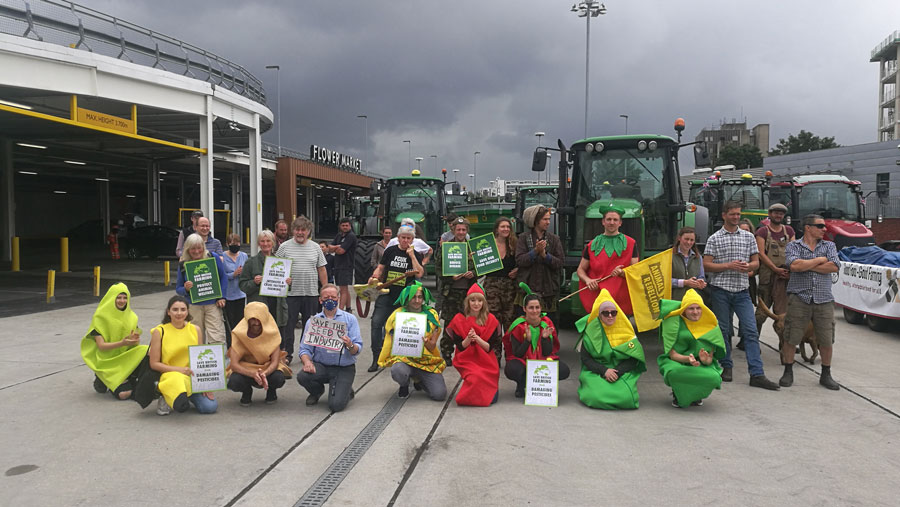 How did this come about?  Volunteer activists, including Celebrity Masterchef-winner Emma Kennedy, concerned about British food standards and the impact of cheap food imports on British farming and food production, invited selected farmers to drive their tractors and cars on a socially-distanced drive-slow demonstration around Parliament Square.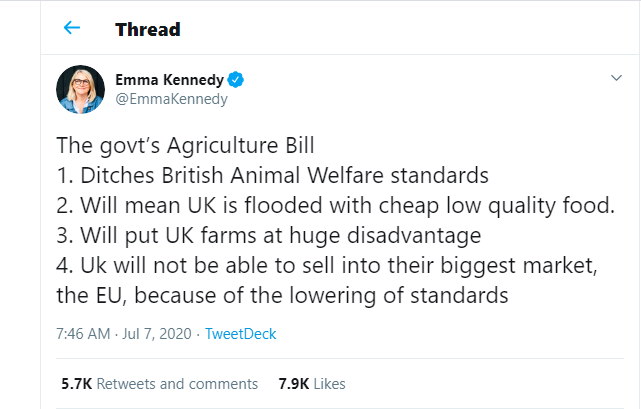 So, on Wednesday 8th July 2020, the tractorcade gathered at New Covent Garden Market, Vauxhall and set off just after 1pm. They slowly criss-crossed Vauxhall, Lambeth and Westminster Bridges before circling up to Trafalgar Square and back down Whitehall into Parliament Square for a finale of three loops in front of Palace of Westminster where a large crowd and a veritable posse of press photographers had gathered to cheer this unusual sight on.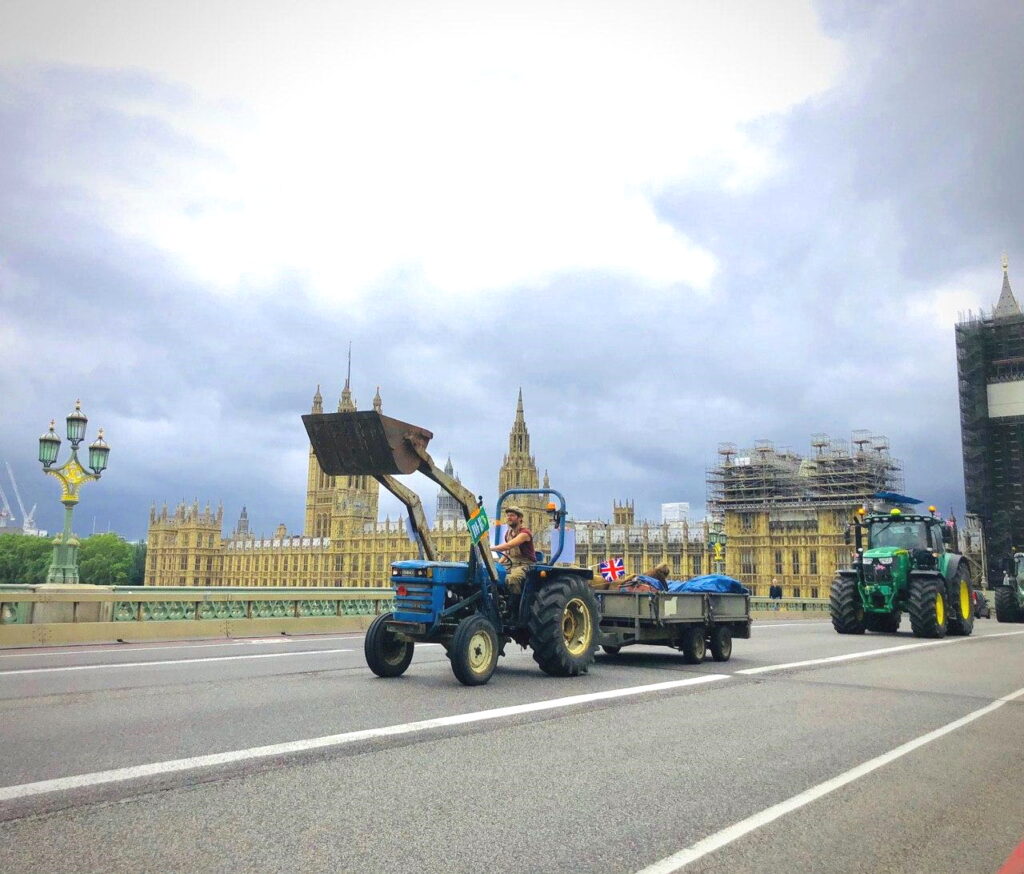 Save British Farming organised the demo to launch our summer campaign.  We believe the Government is betraying voters and the British public by reneging on its manifesto pledge to uphold our world beating British food and animal welfare standards. They want to pass an Agriculture Bill that will ditch UK animal welfare and environmental standards for farm imports, flood the market with low-quality food and destroy Britain's world-class farming industry.
We must save our farms and our British food industry.  We must protect and promote our high-standards of food safety and sustainability – not allow sub-standard imports that will threaten the nation's health, the survival of family farms countrywide and rural economies.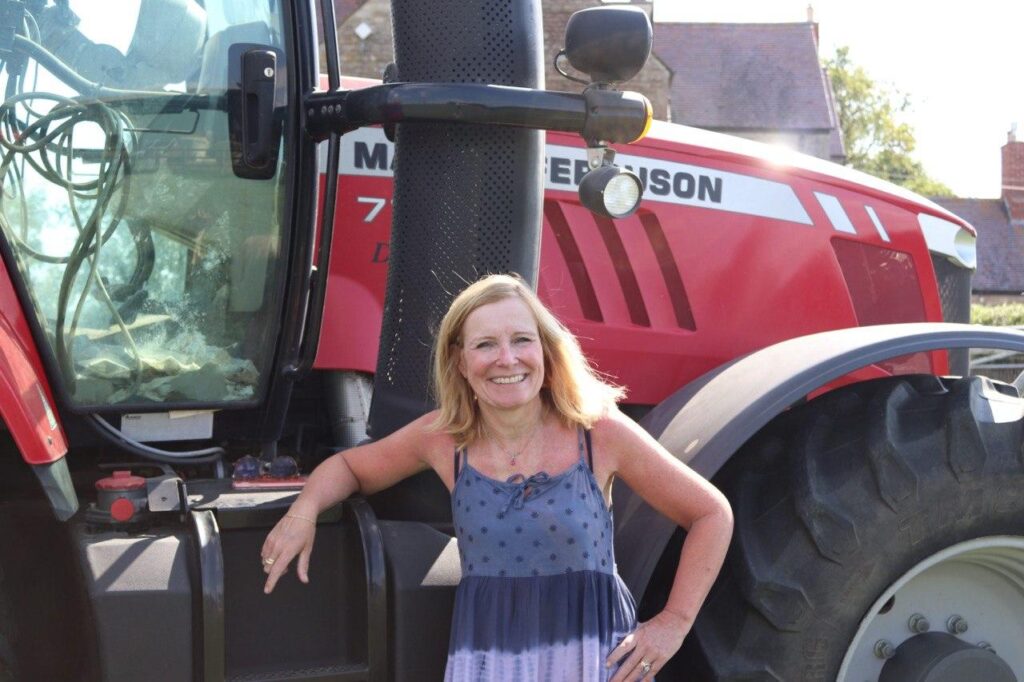 Wiltshire farmer and event organiser, Liz Webster, commented, "The Agriculture Bill is disastrous for British farming; it threatens the safety of our food and diminishes our food security.  Imports from countries that are allowed to produce food with lower standards mean that British farmers won't be able to compete and this will decimate our industry – just as imported coal put British coal out of business in the 1980s.
"Offshoring our food production half way across the world will lead to further destruction of the Amazon rainforest to make way for grazing land.  It will also add more food miles.  Both are a backwards and dangerous step. We need to ensure our food security through sustainable food production, so when disasters such as Covid or a climate event strike, we can continue to feed the nation.
"We were delighted this demo to launch our campaign got off to such a great start.  Please sign up here to follow our campaign and get involved to fight to maintain our world beating food and animal welfare standards."
Darren Jones, Member of Parliament Bristol North West explained, "We need to see an Agriculture Bill that protects our legal guarantees on animal welfare and environmental standards in future trade talks. Ethical, sustainable and competitive farming is something that farmers, consumers and animal rights activists all agree on. I hope that the Government listens to this shared call on Wednesday and places food security, animal welfare and net-zero targets as central to our agricultural strategy."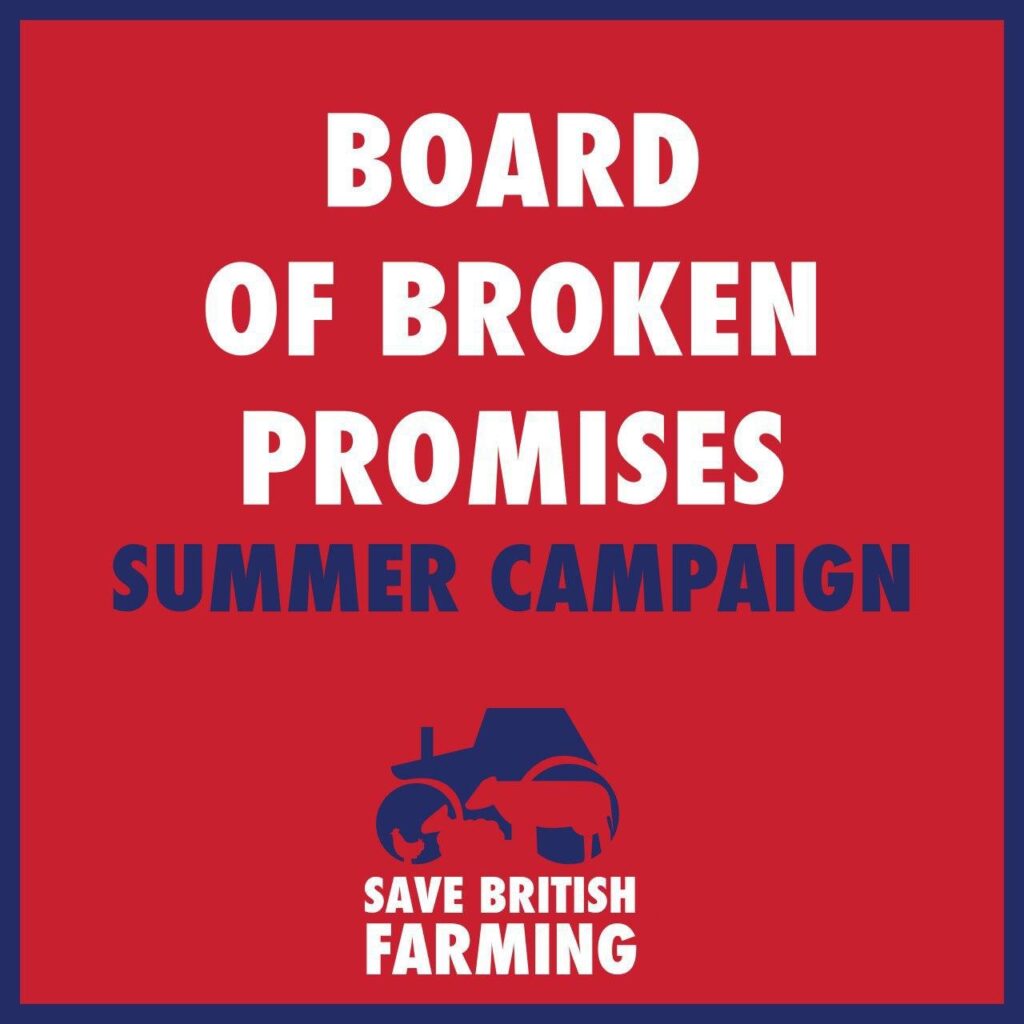 This demo was the inaugural event of Save British Farming.  A summer of activities is planned to highlight how together we can save Britain from the horrors of chlorinated chicken and hormone-fuelled beef and regressive/cruel animal welfare practices.  Save British Farming is launching a
Letter-writing campaign where supporters can write to their MPs, local Conservative Associations and supermarkets, requesting that the British EU food standards are maintained.
Board-of-Broken-Promises campaign offering farmers and individuals banners to place in their fields/properties to raise awareness about concerns to their communities.
Harvest Festival: opportunities for farmers to voice their concerns in their local areas after harvest is over.